A care counselor might be a role you haven't heard of before, but it is integral to building long-term emotional resiliency and success in managing your mental health. If you've ever felt yourself wading through the quagmire of anxiety, depression, or insomnia, you know how important a lifeline and additional support can be.
Indeed, in these down moments, many individuals struggle with follow-through, disoriented emotional swings, and thinking clearly. A trained third party support system can prove invaluable in these moments. But really, who couldn't use some more accountability and advocacy?!
What is a care counselor?
A care counselor supports and tracks a client's wellbeing. In mental and behavioral health care, this is a health professional who collaborates with a medical provider to ensure holistic care of a client. They work as a part of the Collaborative Care model, a specific form of integrated care developed at the University of Washington to treat mental health conditions such as depression and anxiety. 
In this model, the provider takes care of the client by providing diagnosis and prescription medications to treat symptoms, while a care counselor supports the client mentally and emotionally as they begin their journey to recovery. The care counselor listens to the client's story, tracks the client's progress with their medication, and collaborates with the provider to assess whether adjustment in the medication would provide better treatment.
What are the benefits of having a care counselor?
The care counselor is half the backbone of the Collaborative Care model. Client wellness improves most quickly when they have both the proper medication for their diagnosis and empathetic support from a trained mental health professional. Care counselors are available to work with the client using evidence-based strategies outside of medication for improving their mental health issues. 
Care counselors also work with the client to discuss any side effects of the medication and how the client's mental health is progressing as they go about their daily lives. Prescribing providers typically lack the time to check in regularly with the client, and care counselors step in to fill that role in support of the client.
Whether a client is having a particularly rough week or their mental health is on an upswing, a care counselor is there to listen and empathize. Over the months they work together, the care counselor and client will work collaboratively through many evidence-based therapeutic practices. One common technique they will use is CBT, which challenges and changes unhelpful cognitive distortions and behaviors. They will also work with clients on mindfulness, meditation, and breathing exercises to disengage from rumination and uneasy feelings that can arise with negative thinking patterns. 
The Collaborative Care model combines these evidence-based exercises, psychosocial support from a care counselor, and prescription medication work together. Studies show that this model leads to better patient outcomes and better patient satisfaction for anxiety and depression than any other treatment.
What is the difference between a counselor and a therapist?
Cerebral care counselors are mental health professionals who provide clients with behavioral health tools, strategies, and education aimed at improving their mental health symptoms. The majority of our care counselors have a Master's degree in Social Work, Psychology, or Counseling but they are not licensed therapists so do not diagnose or treat mental disorders. Similar to therapy, meetings with a care counselor have a regular cadence where there is a mix of discussing anything on the client's mind and an assessment of the client's response to the medication.
A client works with their care counselor to develop a roadmap to better health. A care counselor helps the client develop specific goals and actionable steps by encouraging them to be as specific as possible by asking the what, when, how, where, and how often.
A client may open up to their care counselor about any symptoms, moods, or events related to their personal health. As with traditional therapists, care counselors are bound to client confidentiality. The client and care counselor will naturally build a relationship to work collaboratively on the client's well-being.
What is the difference between a care counselor and a coach?
Cerebral coaches provide clients with a goal-focused, skill-building approach to tackling any personal and/or professional issues that may be causing distress. Clients may, for example, seek the support of a coach to help them improve their interpersonal relationships, self-image, or to address any destructive habits that may be hindering their success. 
You can think of coaching as a more intensive form of care counseling that involves introducing tools, strategies, and education aimed at supporting a client's personal development. Much like counseling, coaching also typically focuses externally to support clients through education and encouragement of actionable tasks, but with an emphasis on achieving personal goals.
Visits with a coach are included in our Medication + Coaching and Coaching Plan, both of which are available to self-pay clients in most states. In these plans, you can meet with your coach up to 4 times a month, and each session is 30 minutes in length. You can also message your coach through your patient portal at any time.
To learn more about the differences between a therapist, care counselor and a coach, see the table below: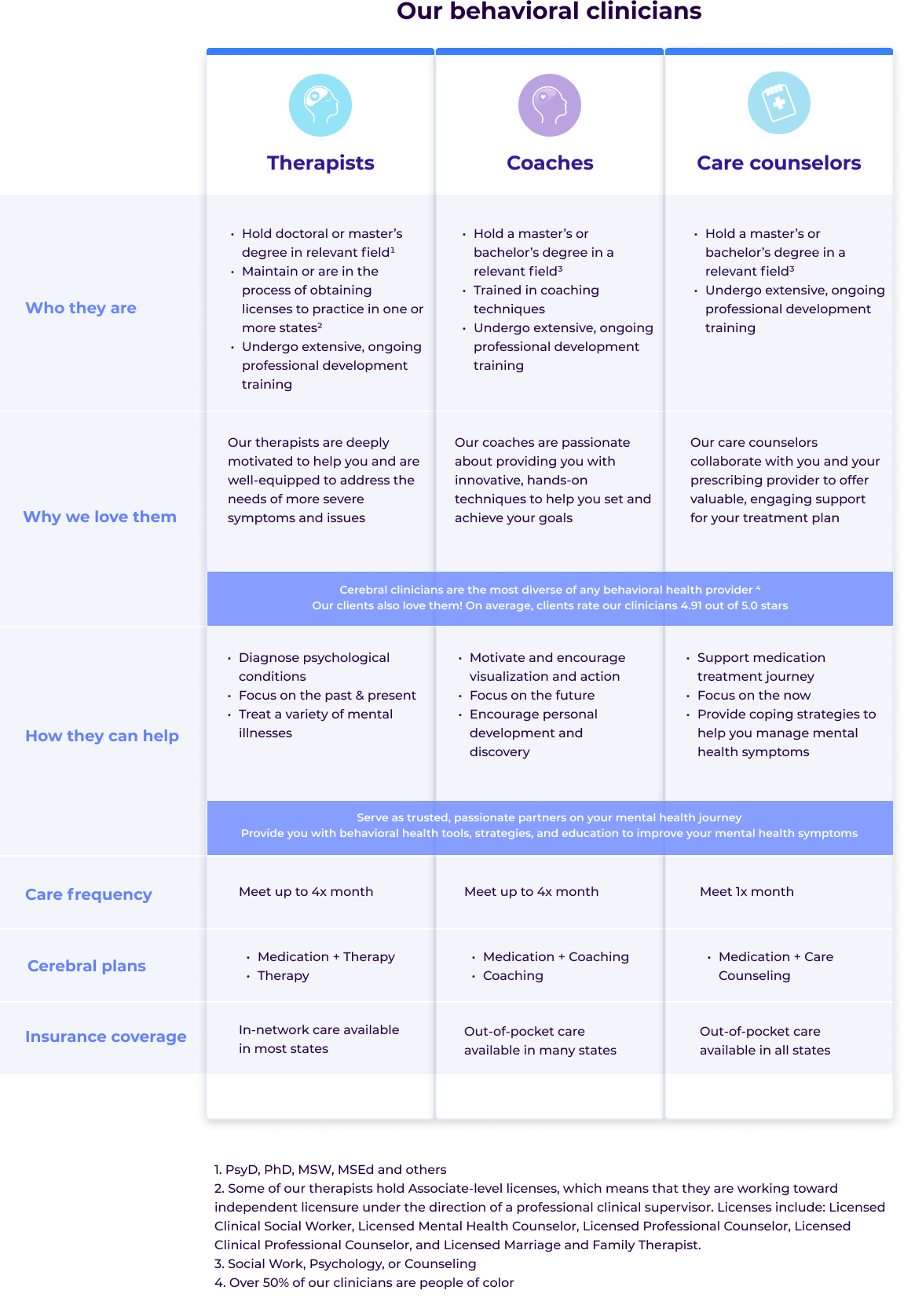 What does the Collaborative Care model look like at Cerebral?
Clients are assigned a care counselor after their initial visit with a provider. The care counselor and provider then work together to manage the client's medication and provide psychosocial support. A care counselor works with the client regularly, meeting over video at least once a month, to help them track their progress and manage any potential side effects
At Cerebral, a client signs up and can see a prescribing provider in the next few days. Because it's a telemedicine company, the visit will be conducted over video, and the wait time is much shorter than the average 3 months it takes to see a psychiatrist.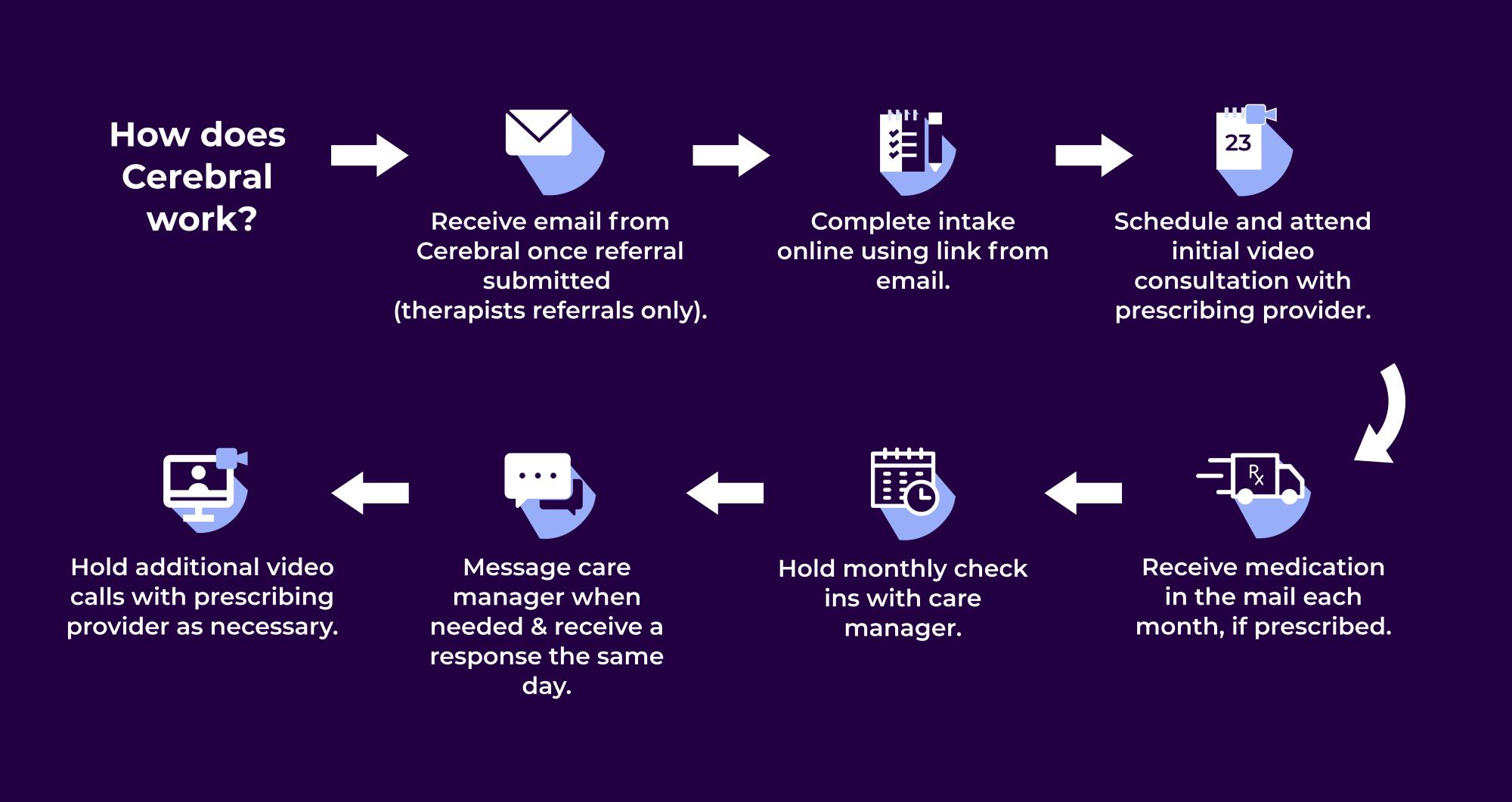 Cerebral understands that working on mental and behavioral health isn't as simple as just taking medication. As such, it has adopted a Collaborative Care model to provide holistic support. Care counselors work in tandem with prescribing providers to progress. The care counselor meets monthly with the client and makes sure the prescribing provider is aware of all client progress or if there's a need to step in to adjust treatment. 
If you feel like you might benefit from psychosocial support in addition to medication for your depression, anxiety, or insomnia, check out Cerebral to see if it can help you with your mental health journey.