Chances are, you know someone who takes some sort of psychiatric medicine. According to the National Center for Health Statistics, 12.7% of the U.S. population over age 12 in 2017 took antidepressants in the past month and one in six Americans take some sort of psychiatric drug.
With the prevalence of antidepressants, how do we distinguish between the many types? Wellbutrin is a norepinephrine-dopamine reuptake inhibitor (NDRI) that stands out among the host of selective serotonin reuptake inhibitors (SSRIs), which are the most common drug for depression treatment. SSRIs are known to come with side effects like nausea, insomnia, diarrhea, weight changes, and nervousness.
While SSRIs are also notorious for their unwanted influence on libido and orgasms, Wellbutrin is an antidepressant alternative that has been shown to cause fewer sexual side effects and can even improve sexual function in some cases.
What is Wellbutrin?
Wellbutrin, or bupropion, is an NDRI antidepressant that is FDA approved to treat major depressive disorder (MDD) and seasonal affective disorder (SAD). The drug is prescribed off label to help with bipolar disorder and attention deficit hyperactivity disorder (ADHD).
Because it has also been known to help people quit smoking, the drug could be a good choice for those who are affected by mood disorders and want to quit smoking. Wellbutrin comes in the form of an oral tablet.
What is treatment with Wellbutrin like?
Much like most medication for mood disorders, Wellbutrin works most effectively to decrease the symptoms of depression over the course of a few weeks. In the first 1-2 weeks, physical symptoms related to energy levels, sleep, or appetite tend to improve first, followed by mood improvement and renewed interest in activities in 4-6 weeks.
For long-term improvement, it's important to keep using bupropion even after symptoms have subsided to ensure depressive symptoms don't return. However, if you're taking Wellbutrin to quit smoking, the period of use may be shorter. Please consult your provider on the length of your treatment and do not stop taking or change the dosage without asking your healthcare provider first.
What are some best practices for taking Wellbutrin?
When taking medication that may affect your mood and behavior, it's important to be diligent about how and when you're taking it. Here are some best practices for taking Wellbutrin:
If you miss a dose, take it as soon as you remember. Never take two doses at once.
Avoid alcohol consumption and illegal drug use. It may reduce the effectiveness of the medication and increase the risk of seizures.
Do not stop taking Wellbutrin abruptly. The risk of seizure from stopping abruptly is four times greater with Wellbutrin than other depressants.
What are the dosages?
There are three formulations and dosing variations. Please consult your doctor to find the appropriate treatment:
Immediate release: Wellbutrin is immediate release for MDD, which means it takes effect shortly after the tablet is taken. Dosage can be up to three times a day. A dose usually starts at 100mg twice a day up to three times a day at max 150mg per dose.
Sustained-release: Treats MDD. Dosage is typically 150mg once a day, potentially 150mg (max 200mg) per day.
Extended-release: Treats MDD and SAD, starting at 150mg (max 300mg or 450mg) once a day.
What are some possible side effects?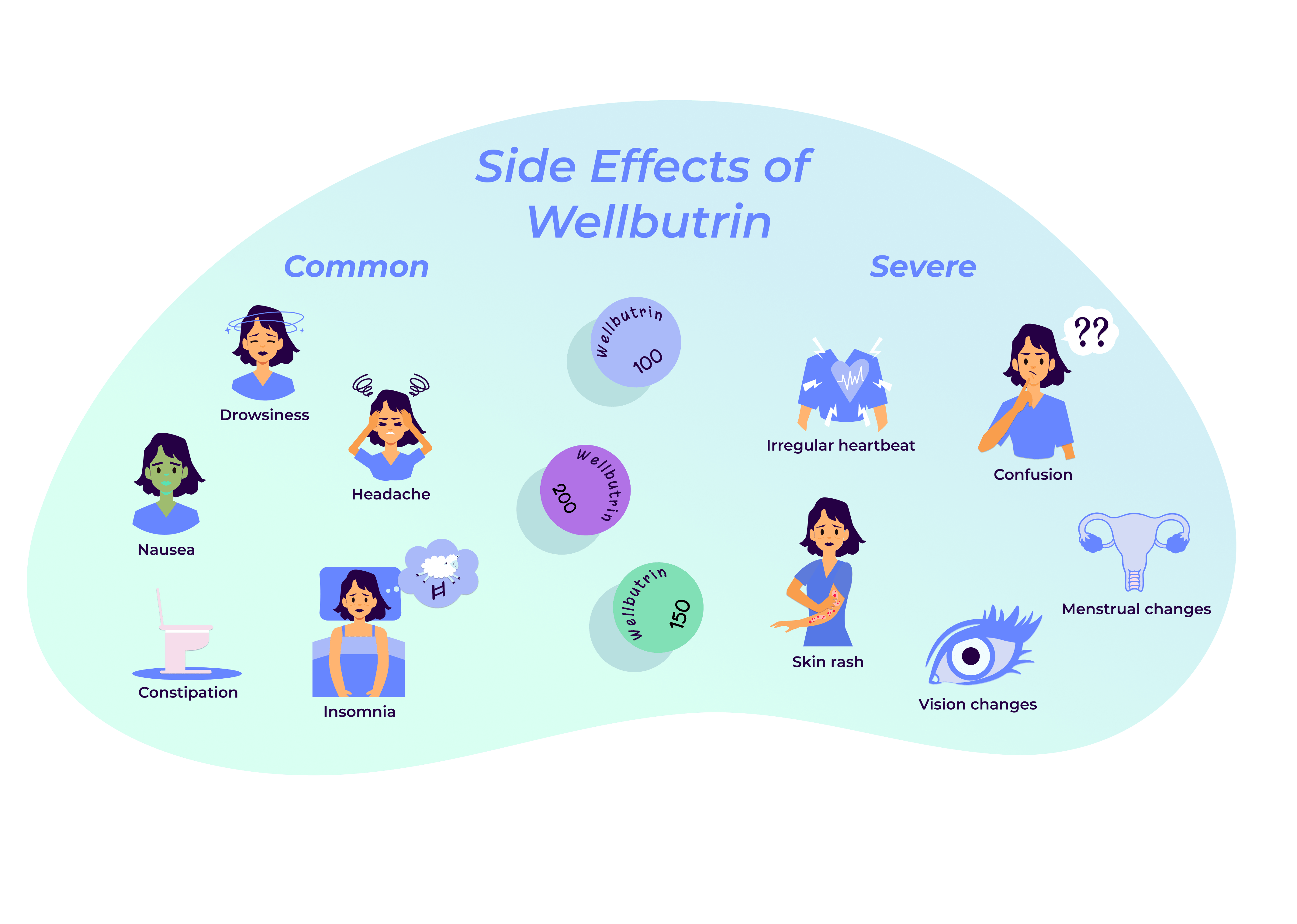 Side effects are usually resolved in the first 1-2 weeks of treatment and are typically mild. Unlike many antidepressants, Wellbutrin does not typically lower libido or cause sexual side effects and is often prescribed along with other antidepressants to counter the sexual side effects other drugs might have. For those with bipolar disorder, Wellbutrin may lead to manic episodes.
The most common side effects are:
Headaches
Dry mouth
Stomach pain
Sleep difficulties
Weight loss
Reduced appetite
Nausea and dizziness
Constipation
Weakness
Rare side effects occur in less than 10% of patients and include:
Aggressiveness
Agitation
Muscle pain
Skin rash
Ringing in the ears
Angle-closure glaucoma
Skin rash
What are some other drug interactions?
Other drugs may influence how Wellbutrin works or increase side effects:
Adderall
Blood thinners
Diabetes medications (Glucophage)
Monoamine oxidase inhibitors
OTC pain relieves (e.g. ibuprofen)
Please consult a medical professional to see if Wellbutrin is a good fit for your condition.
----
Dr. Ho Anh
Chief Medical Officer at Cerebral