Blog Authors: David Mou, MD, MBA , Akshay Swaminathan, Kaitlin Caoili, Angel Mitra, Aneel Ursani, MD, Sid Salvi, Matthew Rubashkin, PhD
Suicide is a leading cause of death in the United States – a tragedy that affects millions of individuals, families, and communities every year.The problem is getting worse:between 2000-2020, suicide rates increased by 30%. In 2020, over 3 million Americans planned a suicide attempt, and 1.2 million attempted suicide. 
As a leader in mental health care, Cerebral has created a state-of-the-art clinical safety system, to reduce the risk of suicide. Of the patients who come to Cerebral with suicidal ideation, 49.7% no longer harbor suicidal thoughts after treatment with Cerebral for an average of 6 months. In combination with the Cerebral Care Platform, patients with Anxiety or Depression see clinically meaningful improvements in their symptoms in less than 60 days.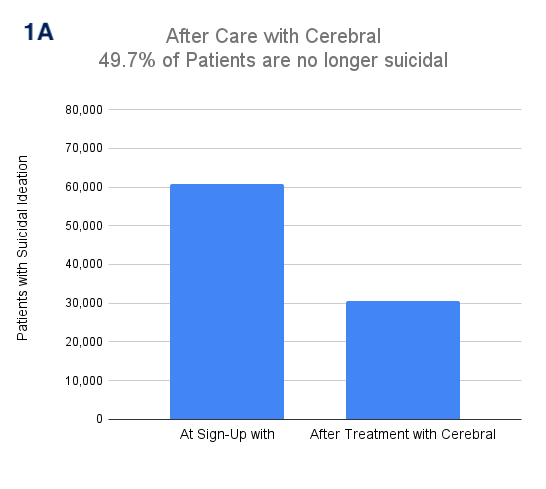 1A. Of patients who come to Cerebral with suicidal ideation, 49.7% no longer harbor suicidal thoughts after treatment with Cerebral
Background
Traditional interventions in mental health have been mass campaigns like education campaigns or media coverage; and are not targeted at the individual patient level. Tragically, most patients who attempted suicide had recently seen a healthcare professional, underscoring the lost opportunity to save lives.
 Furthermore, ED (Emergency Department) utilization for mental health needs rising from 6.6% to 10.9% from 2007 to 2016. Yet there is little evidence to suggest that psychiatric emergency room visits and hospitalizations decrease suicide. In fact, data demonstrate that suicidal events incrementally increase over the course of 12 months after being discharged.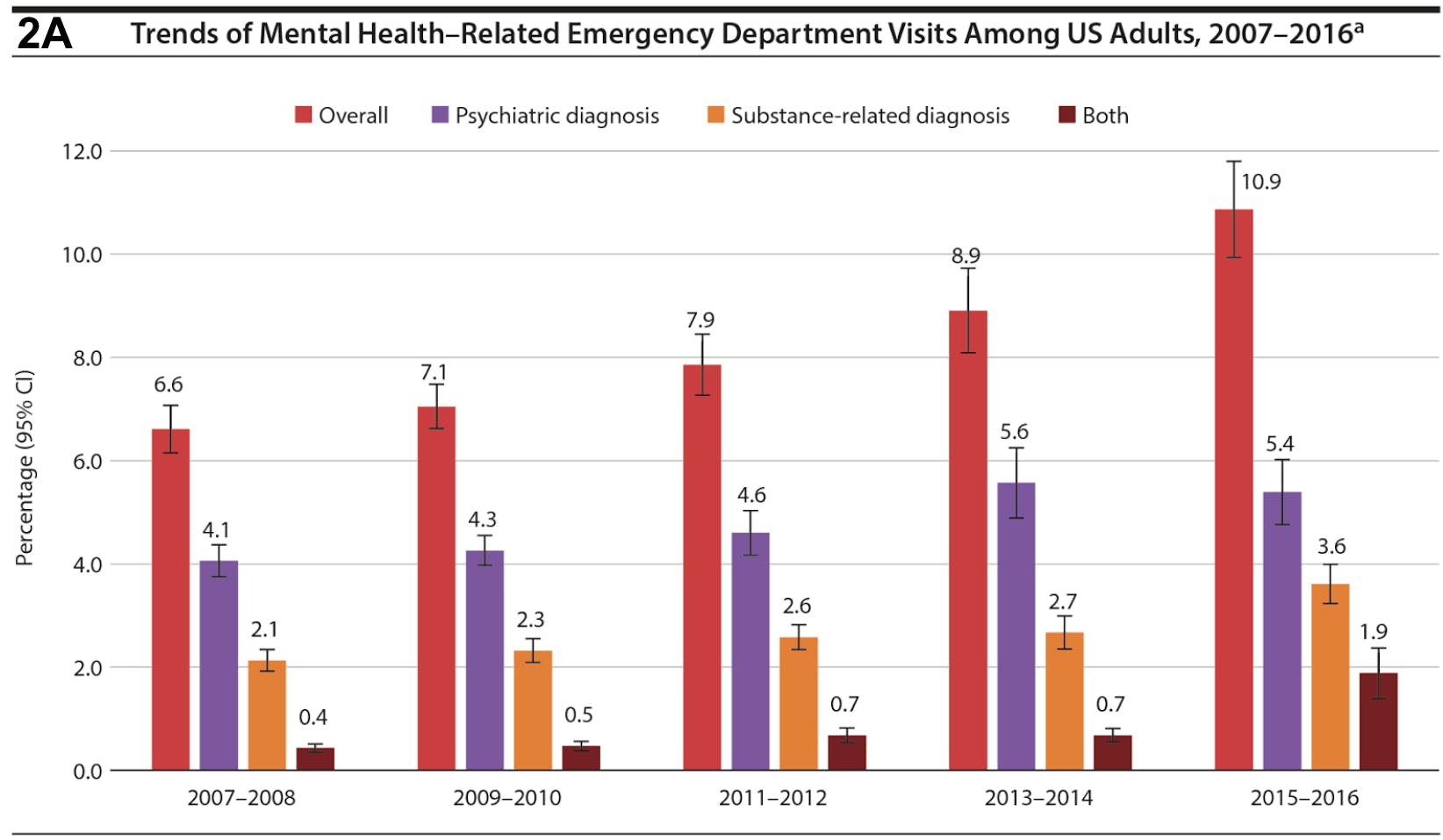 2A. The overall rate of ED visits for any mental health diagnosis increased nearly 2-fold from 6.6% (95% CI, 6.2%-7.1%) in 2007-2008 to 10.9% (95% CI, 9.9%-11.9%) in 2015-2016 (P < .001). Figure republished from J Clin Psychiatry 2020 Jul 28;81(5):20m13241. doi: 10.4088/JCP.20m13241, Increasing Emergency Department Visits for Mental Health Conditions in the United States
The Cerebral Safety System Decreases Suicidal Ideation 
The Cerebral Safety System uses data-driven decision-making to decrease suicidal ideation. With this system in place, on average, 50% of patients who initially report suicidal ideation no longer harbor suicidal thoughts after treatment with Cerebral for 6 months. 
Cerebral invests heavily to maintain industry-leading clinical outcomes. Uniquely, Cerebral has two separate teams for Clinical Quality and Clinical Safety, each run by a board-certified psychiatrist. Within the Clinical Safety team, a crisis management team consisting of trained crisis specialists manage all safety concerns relating to STBs (Suicidal Thoughts and Behaviors).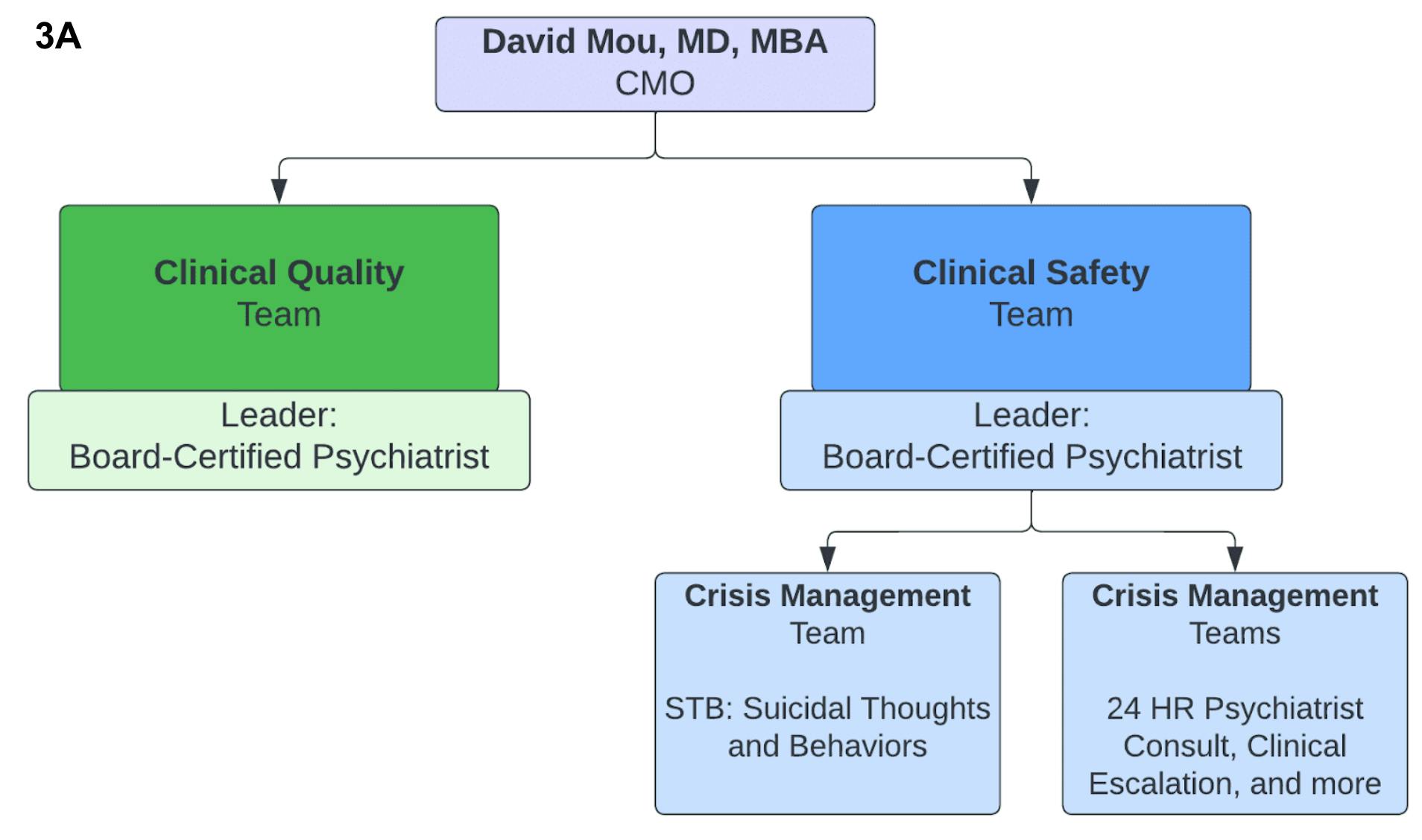 3A. At Cerebral, Clinical Quality and Safety are two separate teams that report to the CMO, Dr. David Mou.
In addition to Dr. Mou, both teams are run by a board certified psychiatrist
The Cerebral Safety system begins with the identification of a concerning statement that  suggests a client may be in crisis (i.e. suicidal or homicidal intent). Cerebral clients may report concerning statements to a Cerebral Team Member via: 
Messaging in the client portal, 
Remark during a clinical visit
Remark during a service call
Comments or messages made by the client on social media. 
Once a concerning statement is identified, a Crisis Specialist is made available within minutes to assist the clinician and client. If the clinician is carrying out this protocol, the Crisis Specialist can support them by offering  guidance on crisis protocols, calling the emergency contact or police department, and/or following up with the client. The Crisis Specialist or Cerebral Clinician will conduct  our 'Acute Risk Assessment' (made in collaboration Dr. Matt Nock, chair of Psychology at Harvard), to clearly determine the immediate safety risk. A safety plan will be created, saved into the client's EMR and shared with the client via chat message. At any point during the call with the client, the clinician can activate the Crisis Response channel to receive help from our crisis specialists, with a clear escalation protocol to a client's emergency contact and if needed, local police department. 
Lastly, a crisis specialist follows up with the client via direct message within 3 days to check on current safety, follow-up visits, and ensure that the client has a copy of their safety plan. Research has demonstrated that even sending postcards to high-risk patients can decrease suicide attempts, which suggests that patient engagement is critical.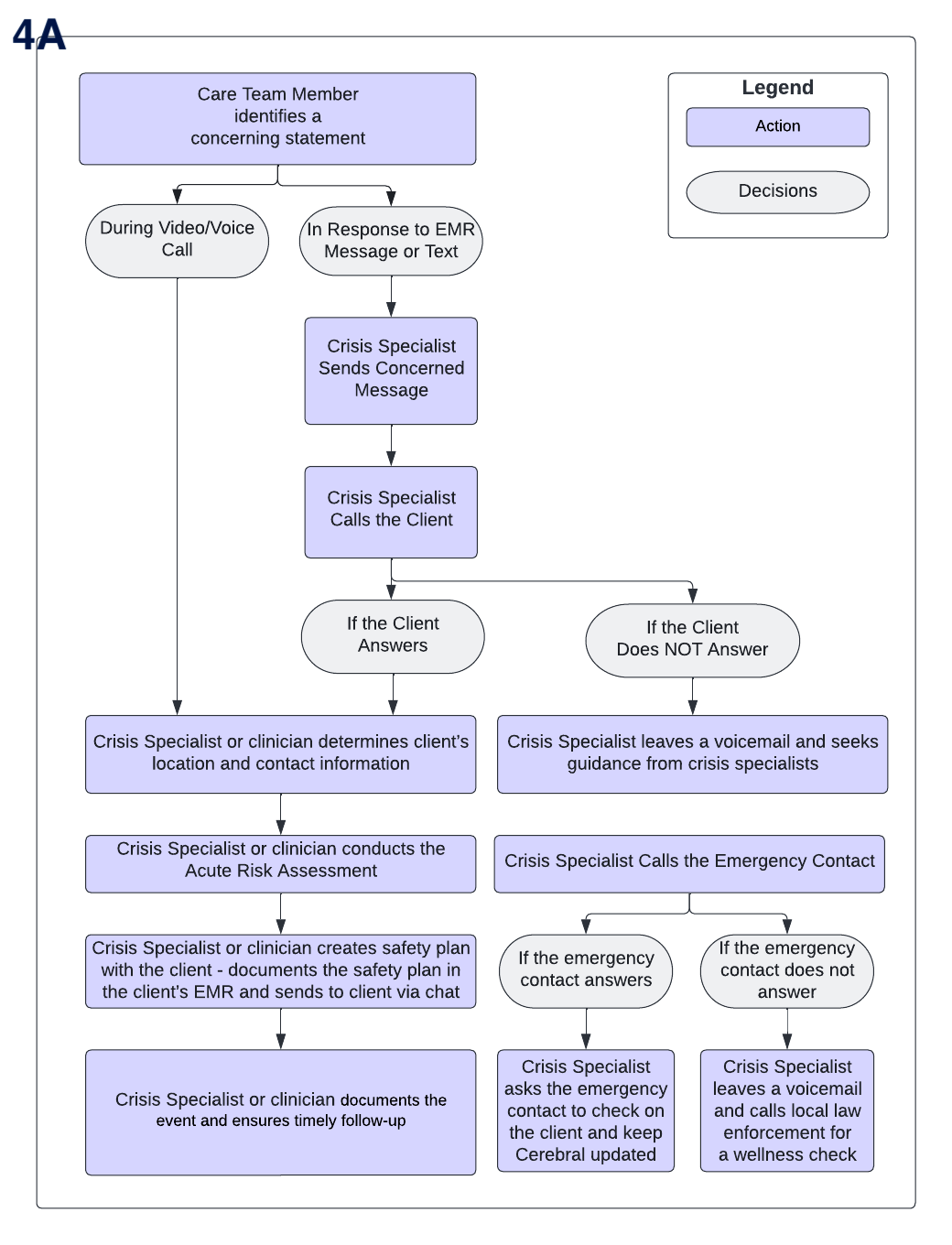 4A. Diagram of the Cerebral Safety System, starting from identification of a client in crisis to triage by a crisis specialist and client outreach. Crisis responses are audited and feedback is provided to crisis specialists to continually improve quality of care. 
Improving Follow-up Care for Patients with Suicidal Ideation
In a randomized quality improvement trial, we compared targeted interventions to improve follow-up care for patients that express SI. Following the activation of the crisis response protocol, patients were randomly assigned to either receive care as usual or to receive care as usual in addition to a caring text message from a registered nurse (RN) within 24 hours of their reported SI. 
We found that patients who received a caring text scheduled a follow-up in less than half the time compared to those who didn't receive the text (2.9 days compared to 5.9 days median). Additionally, patients who received a text message were 52% more likely to schedule an appointment compared to patients who didn't. This data shows that engaging with the patients can be critical to improving their quality of care and health outcomes.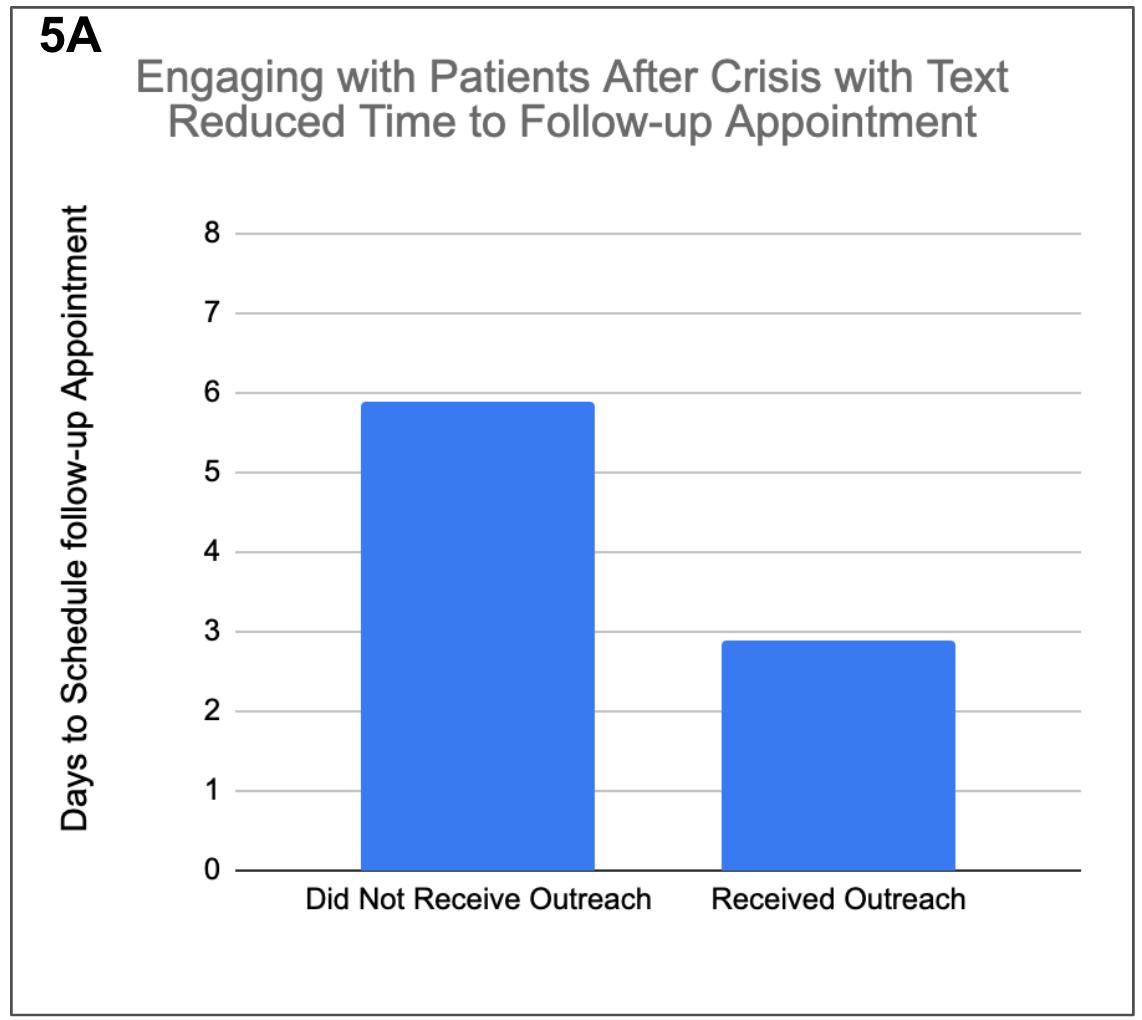 5A: Caring text message intervention following a suicidal crisis helped clients schedule a follow-up appointment in approximately half the time (3 days) compared to clients who did not receive a text message.
Case Study: Reduced suicidality and fewer subsequent ED visits
While these statistics are indicative of the positive impact of the Cerebral safety system, the most compelling evidence can be found in one of our patients' stories. Mark (anonymized for privacy) is a 31 year-old with a family history of bipolar disorder who was diagnosed with bipolar disorder type II three years ago. On two separate occasions in the months prior to starting treatment at Cerebral, Mark was hospitalized and placed on a psychiatric hold for attempted suicide. After being matched with a care team at Cerebral, Mark received the treatment he needed to manage his bipolar disorder. Within a month, he stated "the medication has only been positive" and that the dark cloud of depression he was experiencing had completely changed. His clinicians report that Mark is now eating right, sleeping better, working out, and that he has stopped drinking. In speaking with his care team, Mark reflects, "since I started with you and Cerebral I have stayed out of the hospital, I don't want to go back there ever again." 
Conclusions
Cerebral is continuing to make strides in improving clinical quality and safety for our most vulnerable patients. We are able to reliably decrease suicidal thinking by connecting patients to care more quickly, which in turn can reduce unnecessary emergency room visits and hospitalizations. 
We are just getting started. To more efficiently identify clients that are experiencing STB, we are currently developing machine learning models that will automatically detect direct messages indicative of suicidal ideation and flag them to Crisis Specialists. In doing so, we hope to effectively and efficiently provide timely care for our patients that need us most. 
Read the full white paper: Reducing Suicidality with a Comprehensive Data-driven safety system