Risk-based contracts align with value-based care models by rewarding higher reimbursement to providers for hitting specific quality metrics that ultimately drive positive outcomes and patient experience. In the value-based future of behavioral health, just like any other vertical in healthcare, providers will be reimbursed at a scale based on the risk level of the patient's condition. For example, providers will be incentivized to take on patients with severe mental illness (SMI), such as bipolar disorder. These incentives will ultimately drive greater access to care for individuals with severe conditions, in turn reducing hospital readmissions and improving overall patient outcomes.

In this blog, we discuss the importance of accurate risk coding, the varying levels of risk models, and how risk adjustment analysis impacts positive outcomes and program success.
Risk Coding
It is crucial for physicians to code ICD-10 correctly to succeed under Medicare and other value-based contracts. Common questions from organizations participating in value-based care models include:
 Are my providers coding behavioral health diagnoses below, equal to, or above the national average?
 Do my primary care providers misdiagnose or shy away from complex mental health diagnoses? 
We find that a significant percentage of patients that arrive at Cerebral are under diagnosed or not diagnosed at all because (1) they previously lacked access to specialists or (2) it is the first time that they have sought mental health care. Having available providers across the spectrum of care (MD psychiatrists, psychiatric mental health nurse practitioners, licensed masters-level therapists, and masters-level mental health practitioners) enables accurate coding for conditions from mild to severe. Some of the most commonly diagnosed conditions and details that should be included in documentation to accurately code for behavioral health disorders are the following: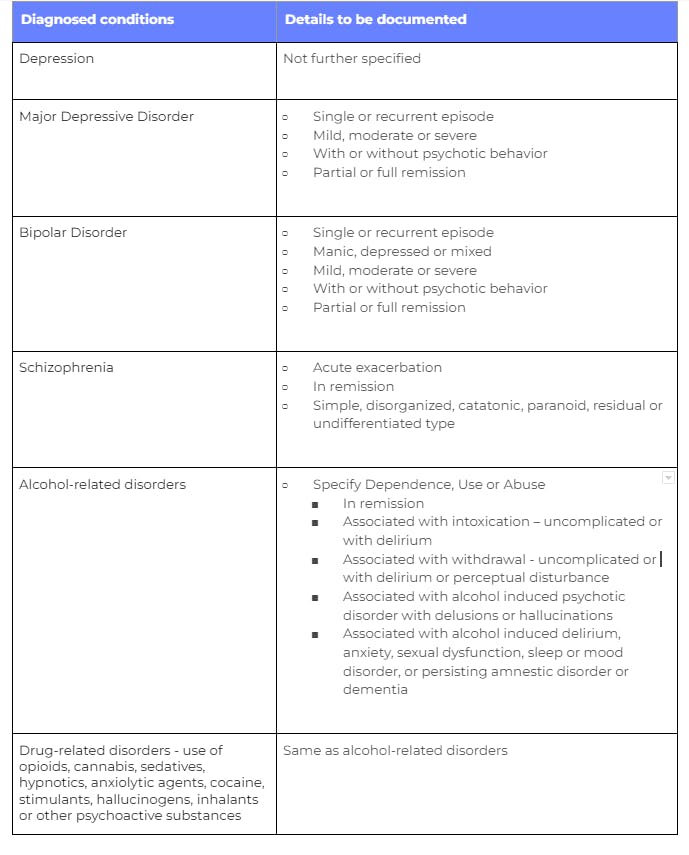 Upcoding
Upcoding has increasingly become a problem within the healthcare industry. This occurs when a provider submits codes for more severe conditions than the patient was originally diagnosed for, with the intention to receive higher reimbursement. NCBI estimates imply that upcoding generates billions in excess public spending and significant distortions to firm and consumer behavior.
According to a recent Stanford published study, there are harmful effects of upcoding:
Truthful providers are unfairly penalized and face greater financial pressure to upcode as well.
As inaccurate codes are submitted, upcoding biases in medical records result in a loss of accurate information on patient populations.
Publishing biased quality metrics may harm patients by routing them to providers who are engaging in upcoding rather than providing a better quality of care.
How to Avoid Upcoding
Standard EMRs often have integrated computer-assisted coding modules based on documentation. This can be troublesome as clinicians often copy and paste information from previous patient visits, which may inflate the work performed, resulting in overcoding.

It's important to partner with a reputable provider that is transparent about their data as well as safety protocols. If a provider is not willing to share this information, this should be a red flag. In addition, it's also important to work with data-driven providers who measure clinical outcomes across all patient populations. Unfortunately, many mental health providers do not do this.

Given these unfortunate norms in the industry, Cerebral built a proprietary EMR, which is leveraged by our clinicians to track data along multiple dimensions, including patient engagement, clinical progress, clinician activities, and clinical risk. By leveraging our EMR, we are able to streamline the data collection process and pull reports in a timely manner, which we share with our partners.
Risk Adjustment Benefits
 Risk adjustment is designed to benefit each stakeholder within the episode of care for a patient and balances reimbursement based on the acuity of care.
Patients with SMI will receive the same high-quality care as patients with low to medium acuity conditions resulting in fewer readmissions and positive outcomes.
Providers experience higher compensation rates as risk adjustment takes into consideration patient demographics and risk factors that affect outcomes outside of the scope of the provider's control or care.
 Payers who enroll a high-risk population or individual receive corresponding compensation to offset the additional costs associated with those conditions. 

Varying Levels of Risk
There are varying levels of risk that providers can take on for individual patients or patient populations.  The following risk-based models are organized from lowest to highest risk, defined by the payment and the degree of ownership or accountability for patients that providers and payers enroll in care.
 The lowest level of risk is the pay-per-performance approach, similar to the traditional fee-for-service model which often has some kind of clinical or operational performance guarantee that's layered on top, is volume-based and has less ownership of care.
In per member per month (PMPM) with risk sharing models, companies charge a set rate per member per month for clinical services, which creates economic risk at the provider and payers' expense for patients with SMI with a higher total cost of care.
Bundled payment models are full-risk to companies for a specific episode of care within a specific time period or a specific condition.
 In sub-capitation models, companies take on payment and risk for a subset of clinical services. An example is a company taking on payment and risk for all of a SMI patient's behavioral health care. These models can also be applied to primary care or other specialities.
 If the company takes on full risk against the total cost of care, or in other words, for all clinical services for that patient, they are following the global capitation model. Providers are effectively becoming the payer as they take on this full actuarial risk for that patient.
Risk-adjustment Analysis
The next important step in risk coding is analyzing data, or risk adjustment analysis.  Integrated technology should be equipped to help your organization understand how many newly diagnosed individuals on health plans are becoming diagnosed with specific SMI conditions such as major depressive disorder with the codes submitted.
How to Forecast ROI with Risk Adjustment Analysis
Cerebral has a distinct ability to assist health systems, providers, and payers in analyzing the total population of patients that qualify for severe mental health codes like MDD, Bipolar and Schizophrenia. This is accomplished through extensive data collection and outcomes tracking as well as clinical expertise in SMI. Cerebral helps organizations leverage risk-adjustment analysis through precise coding assistance for high-risk patients. 
Learn more about how Cerebral partners with organizations to provide high-quality mental health care for patients and members.