According to NAMI, 1 in 5 Americans has a mental health condition, and 1 in 20 Americans suffer from a serious mental illness. While many providers shy away from treating those with serious mental illness, Cerebral does not. Our goal is to be a comprehensive mental health provider, and we feel that value-based care and treating those with serious mental illnesses go hand-in-hand. 
Quality has always been Cerebral's calling card. Now with new leadership, Cerebral is committed to tripling down on clinical quality by providing timely access to high-quality care and measuring and improving clinical outcomes.
Very importantly, we share these outcomes with our payer partners. Our data-first approach allows us to deeply partner with payers to improve clinical outcomes, decrease costs, and accelerate towards value-based care. 
This blog highlights some of the key metrics we provide our payer partners on a monthly basis. These data insights inform mental health provider quality benchmarks well beyond the current standard of claims and manual spreadsheet tracking.
Differentiated Data Assets
Cerebral's proprietary electronic medical record (EMR) allows us to track and measure data from both providers and patients. Our full-stack approach to technology provides unique insights from the second a patient contemplates care (e.g., website inquiry) through clinical outcomes (e.g., assessment score improvement, reduction in preventable emergency room visits). This data across the patient journey, including patient engagement, clinical progress, clinician activities, and clinical safety impact, informs a data-driven clinical model producing superior outcomes.
Example: Most payers ask their mental health providers to track industry-standard assessments. This task, while simple in theory, is largely not completed due to the laborious nature of completing regular assessment for a typical provider. For most clinics, patients fill this assessment out on paper, pass it to a provider who then manually enters it into a spreadsheet, and then sends it to the payer via secure email. The vast majority of mental health professionals forgo measuring outcomes altogether. Cerebral, on the other hand, does a digital assessment upon intake, uploads the assessment to a patient's chart for their clinician to review ahead of an appointment, and systematically tracks assessments moving forward to then correlate outcomes with clinician behavior. 
Our data set is much more robust than just assessments. We measure data in three categories: 
Patient characteristics
Access to Care
Clinical quality outcomes 
These metrics are our guide to driving true quality care and better outcomes. The below charts are de-identified outcomes from recent payer reports.
Cerebral Treats a Wide Range of Mental Health Conditions
The majority of mental health providers are reimbursed on a fee-for-service basis. As such, the easiest path forward toward maximizing revenue and minimizing effort is to cherry-pick the mild/moderate patients and keep them in recurring appointments. Not only does this exacerbate the provider supply problem for new patients of all types, but it disincentivizes providers from treating more serious conditions that require more time and attention. Cerebral provides a patient breakdown by condition type on a monthly basis to showcase our continued efforts and focus to improve access to care across the severity spectrum of mental health conditions.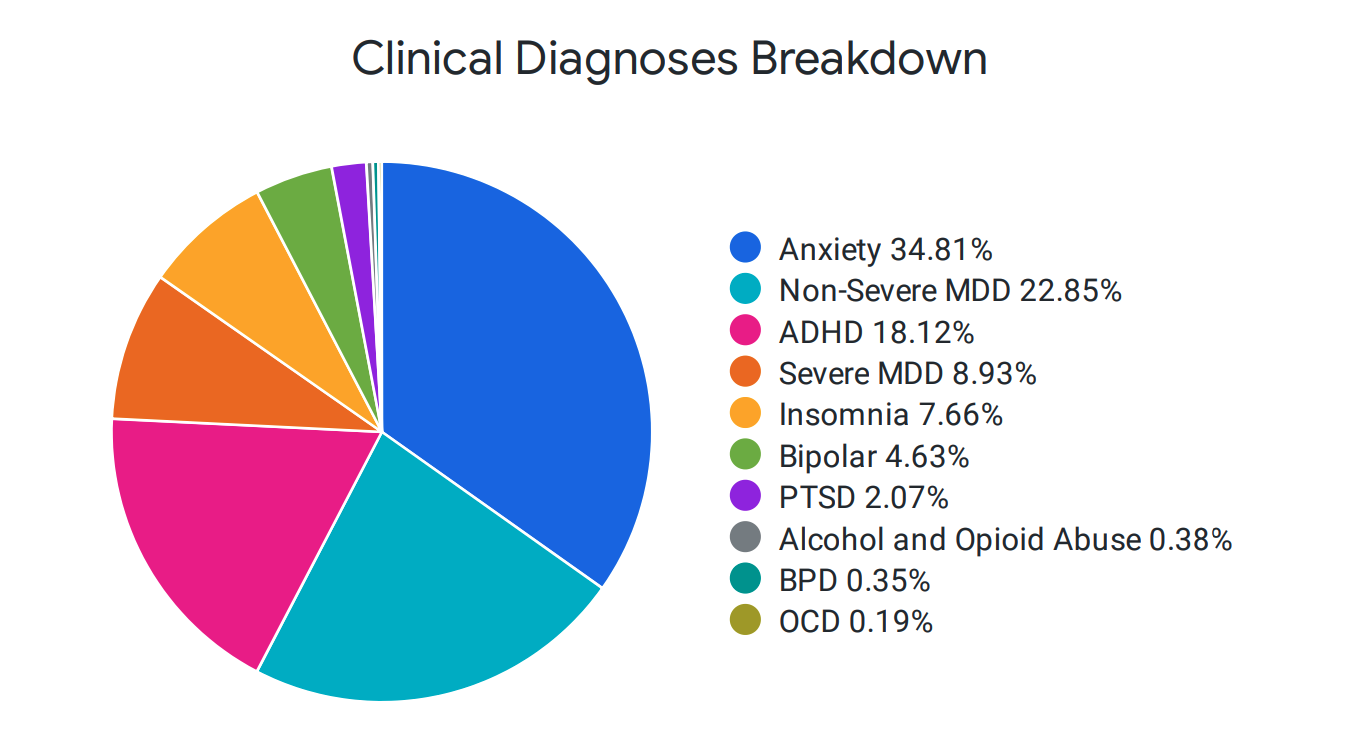 Cerebral Connects Patients to Care within Days
Traditionally, patients may wait for months before they can secure a visit with a mental health specialist. In contrast, 90% of Cerebral patients are offered an intake appointment within days instead of the industry average time of 25 days or more.
On average, patients can schedule an appointment with their therapist in less than two days (1.9 days) and schedule an appointment with their prescriber in less than one day (0.7 days). We also track the average days from the time a member signs up for Cerebral to their first appointment with a prescriber and/or therapist. For May 2022, we are seeing an average of 3 days for a member to complete an appointment with a provider and 5.4 days for a therapist.  


Clinical Quality and Outcomes
We start tracking quality as soon as a member enrolls in Cerebral. Members complete a clinical assessment upfront with regular assessments throughout their treatment to track progress and efficacy of care. We closely monitor any changes in assessment scores, as indicated in the chart below, and work with our clinicians to adjust treatment plans to drive improvements in PHQ9 and GAD7 scores.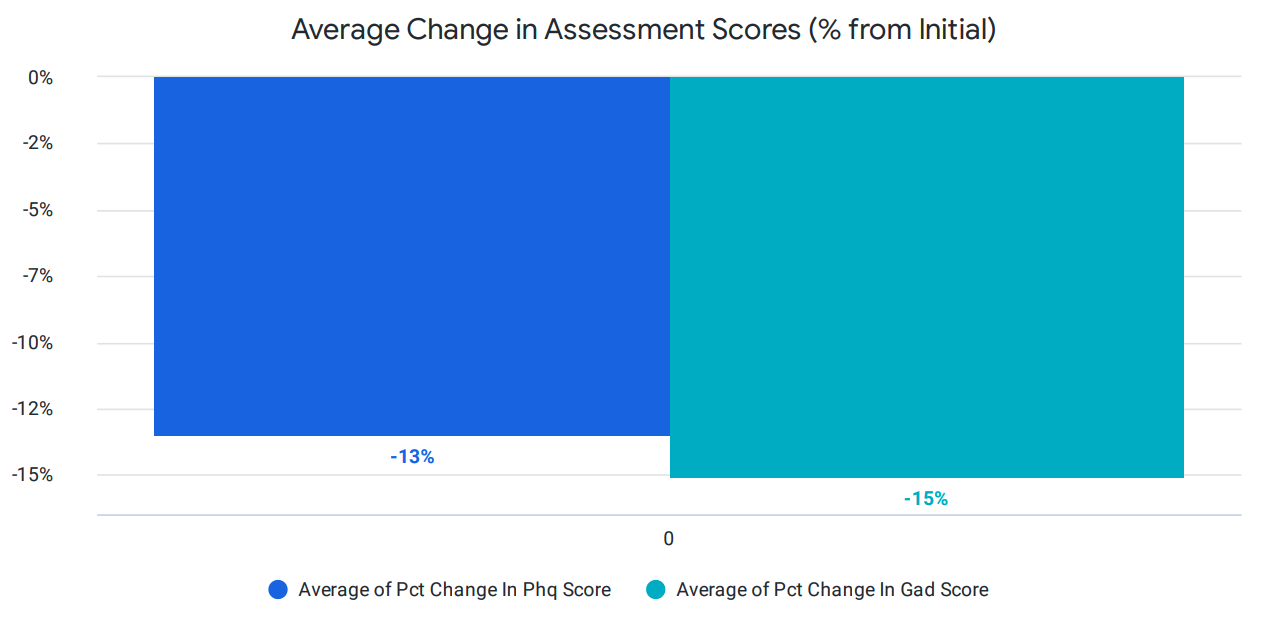 Importantly, we ensure high-quality care for patients with serious mental illness (SMI). To that end, we also segment our clinical outcome reporting for this group. Our clinical outcomes for those with serious mental illness, as seen below, show a significant improvement in PHQ-9 and anxiety (GAD-7) scores.

This clinical improvement is also measured by the "graduation" rate. As mentioned above, a fundamental issue with clinical supply in the mental health industry is that patients stay in care unnecessarily after they have achieved remission and significant clinical improvement. We fully support patient preferences and help educate them on how to manage their conditions, upon improvement, through digital interventions and CBT that extends outside of a provider visit.
Additionally, we use data-driven decision-making and innovative clinical protocols to decrease suicidal ideation. Patients who report suicidal ideation are closely monitored and offered additional support through our safety system. As one example, we actually pay our clinicians to make additional calls to certain patients with suicidal thinking in-between visits,  given that research demonstrates that doing so decreases suicide risk.  As a result, we are able to significantly decrease suicidal thinking at scale within months. Within our payer report, we track the overall reduction of suicidal ideation which, in this case, shows that 55% of patients no longer report suicidal thoughts. 

What's Next? Value-based Care
Our vision and long-term goal at Cerebral is to pioneer value-based care in mental healthcare. To this end, we will continue partnering with payers and combine our unique data with payers' claims and utilization data to understand how we can provide higher quality care while reducing overall costs.  
Our recently announced strategic focus will accelerate our ability to transition to a value-based care model by focusing on the core patient experience, clinical quality and integrity, clinical effectiveness and enablement, and operational technology optimization.  
As a payer, provider, or any other healthcare stakeholder,  please email us directly if you would like to explore partnership opportunities.