Clinical safety has always been a priority of Cerebral's care model. With the mission of providing access to high-quality mental healthcare, Cerebral continuously strives to better support and monitor the safety of our clients by following evidence-based guidelines. Our Clinical Safety team is led by a dedicated clinical lead (Cerebral's Medical Director of Clinical Safety) who works closely with an operations lead (Clinical Safety Operations & Crisis Response Manager). Additionally, the Clinical Safety leadership team meets regularly with our advisors, one being Dr. Matt Nock, Chair of Psychology at Harvard and an expert in suicide prediction. 
Cerebral's Crisis Response Team
Over a year ago, we created the Crisis Response Team to respond to the emergent needs of our clients. Cerebral's Crisis Response Team is composed of full-time, specially trained crisis specialists. These crisis specialists support both our clinicians and clients in the case of a client safety crisis.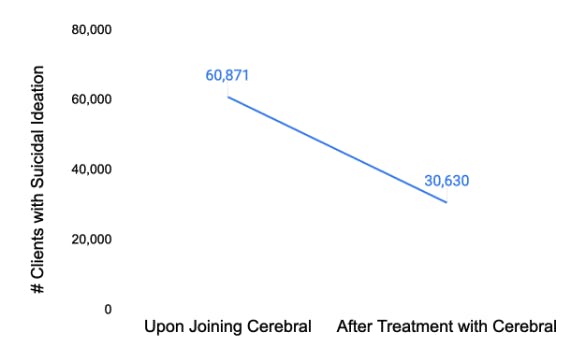 Figure 1: Of all clients with suicidal ideation who join Cerebral, 50.2% no longer report suicidal thoughts after an average of 6 months.  
Cerebral's Clinical Safety Team has established many levels of support for our clinicians and crisis specialists. One of these is a crisis-specific channel, which allows us to monitor the frequency of crises and track data related to these events. We use this data and evidence-based guidelines to continually improve our approaches to clinical safety. The Crisis Response Team monitors this internal crisis channel 24 hours a day Monday through Friday and 12 hours a day on the weekends. 
Cerebral's Clinical Safety Protocols
Additionally, Cerebral's Clinical Safety Team has created a comprehensive set of protocols to assist our clinicians with managing a wide variety of client crises. Some of these protocols include:
Client Crisis Response Protocol (for situations during which clients have thoughts of hurting themselves or others)
Domestic Violence and Abuse Protocol
Non-Suicidal Self Injury Protocol 
By using these protocols and other levels of support (like case consults, clinical safety office hours, and clinical huddles), our clinicians are able to support clients through critical crisis periods when effective care is crucial. This process includes the following:
Completing our proprietary risk assessment 
Creating a client safety plan
Providing resources for additional support
Mobilizing in-person support for the client, like an emergency contact or mobile crisis unit
If needed, assisting the client with getting safe emergency care, like calling for emergency medical services
Tracking Quality of Crisis Care
In addition to the crisis response support we offer our clinicians, the Clinical Safety Team also conducts weekly and monthly audits to track the quality of care offered by clinicians and crisis specialists. We provide regular feedback and training to our care teams so that they can continuously improve. On average, Crisis Specialists maintain a quality score of ~22/25 in their first month. For Crisis Specialists with a tenure of 6 months and above, their average score sits 2 points higher, at ~24/25. Some of the most recent trainings (which may differ between clinical teams) include:
Substance Use Disorder (SUD)
Opiate Use Disorder (OUD)
Alcohol Use Disorder (AUD)
Clinical Safety and Crisis Protocol
Postpartum, Perimenopause, and Menopause
ADHD
Bipolar Disorder
Nutrition
Trauma, PTSD, and Stress-Related Disorders
Clinical quality and safety are critically important in mental healthcare. Along with our current quality and safety initiatives, Cerebral continually reviews policies and protocols alongside industry best practices to iteratively improve the care that we offer our clients.We recently launched a new transformation program named Cerebral Core, which aims to set the foundations for long-term, sustainable growth and exceptional patient outcomes for years to come.  
Cerebral Core Pillars & Initiatives 
Cerebral Core is grounded in four overarching pillars. These pillars, along with our company values, will guide the decisions (e.g., how we deploy resources) and trade-offs we make as a company moving forward: 
Core patient experience 
Clinical quality and integrity 
Clinician effectiveness and enablement 
Operational and tech optimization