Although physical healthcare has taken large strides to offer better access, especially virtually amidst the pandemic, to shift to value-based care models, mental healthcare has made little progress to align with physical healthcare's technological evolution. In a competitive job market, it's more important than ever for employers to think outside the box to enhance benefits strategies, including employee mental healthcare.
This blog highlights the key takeaways from the EAP webinar, which discussed why employees need additional mental health services, beyond the EAP.
Current state of mental healthcare
There are two main reasons why mental health care innovation has not progressed at the same velocity:
The stigma around mental health
Access to mental healthcare
Stigma around mental health
The stigma around mental health has been a large barrier to quality mental health care, however, over the last few years, there has been significant headway to reduce it in order for individuals to receive the care they want and deserve.
Access to mental healthcare
Referring out patients to providers who can treat medium to high-acuity conditions leads to an average wait time of 2-3 months in many cases.
According to a Patient Engagement HIT article, even if patients are seeking mental healthcare, limited health insurance access or in-network care are keeping many patients from visiting mental healthcare professionals. And even when a patient can find an affordable provider who will accept insurance, clinician shortages, fragmented care, and societal stigma are getting in the way of adequate care access.
In fact, the study in the article investigated 8 comparable employer-sponsored health plans that found that patients only had to access out-of-network care for mental health 13% of the time.
Shift to virtual care
Employee Assistance Programs are deeply rooted in brick-and-mortar models. With the pandemic, there was a massive shift to virtual everything, including virtual care.
This recent Becker's article broke down some data about how Americans used telehealth in 2021:
Nearly 82% of patients in a study said their virtual visit was as good as an in-person visit
91% of patients in a study said their virtual visit made it easy to get the care they needed
93% of patients in a study found the interface was easy to use.
40% of patients say they interact with their healthcare providers more because of telehealth, according to GoodRx research released in November.

The shift to virtual care has not only led to the same if not higher satisfaction rates of patients but has proven that the evolution of technology in the healthcare industry opens up avenues for better, high-quality care with a convenience factor.
The mental health sector in telehealth has experienced exponential growth. A recent Healthcare Dive article says that there was a 6,500% increase in telehealth claims for behavioral health services in 2021.  When comparing traditional MH services to modern solutions such as virtual care, 25% of patients said that they interact with their virtual provider more.
Behavioral health impact on medical spend
Based on a 2021 study of Cerebral users, 10% of your workforce drives 70% of total medical spend, and over half of that 10% have a mental health condition.
Why is this happening?  The issue circles back to access to high-quality mental healthcare and the stigma around asking for help.  EAPs simply do not offer a full-service solution for all individuals, including those who suffer from medium to high-acuity conditions.
According to the data graph below, if 6% of your total employees are resulting in 44% of total medical spend, imagine if your benefits strategy could address issues of all severity levels, and the cost savings that the company would benefit from.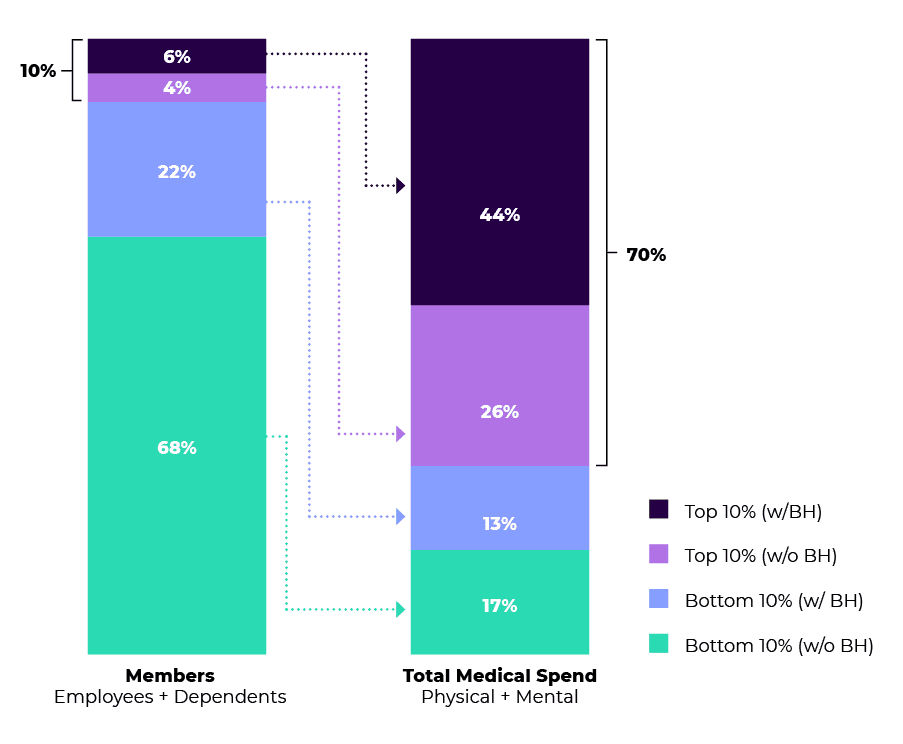 The spectrum of care based on market saturation
The market landscape for mental healthcare solutions is expansive, and it can be hard to differentiate what sets certain companies apart from their competitors. 
One of the most important elements that a solution should be able to provide your workforce, is care inclusive of moderate to high acuity conditions. Employees who are seeking mental health care beyond anxiety and depression symptoms and diagnoses often times are referred out to a specialized provider, which leads to elevated wait times (~2 months) to be connected to a provider, without the convenience of virtual visits. 
Some examples of medium to high-acuity conditions include:
Bipolar
Schizophrenia
Major Depressive Disorder
Opioid Use Disorder
PTSD
PPD
There is very little market saturation for mental health care companies that have specialized conditions and customized digital tools configurable to meet unique employee needs. Since Cerebral was founded, growing a clinical workforce with diverse qualifications to be able to treat beyond low-acuity conditions is what has set us apart and allowed us to care for diverse populations.
EAP landscape
Not all EAPs are built the same.  EAPs are categorized into three separate buckets, all with varying levels of support for employees. 
The three types of EAPs are:
Embedded solutions
No PEPM billing
No reporting capabilities
Stand-alone solutions
PEPM billing
Reporting capabilities to see data around usage
Support for patients
More of a collaborative relationship between the EAP vendor and employer
Digital care EAPs
Digitally driven
Digital support for patients
Address low-acuity conditions
Offerings are similar to stand-alone solutions
Types of care for behavioral health
Counseling
Counseling focuses on a specific issue for a limited amount of time. This would be for one specific traumatic life event that an individual needs help to process.  
A few examples of a traumatic life event would be:
Death of a loved one
Divorce or seperation
COVID-related depression or anxiety
Counseling will likely be 4 total sessions instead of the ongoing sessions with a therapist which averages 12+ sessions per year.
Therapy 
Therapy can be more long-term and focuses on you as an individual. Therapy focuses primarily on behavioral changes.  
Examples of reasons to go to therapy are:
Anxiety
Depression/MDD
Opioid use disorder
PTSD
Childhood trauma
Phobias
Insomnia
Psychiatry
Psychiatry uses medication to treat mental illness. Average wait times for therapy and psychiatry are 50-60 days with traditional EAP solutions. Delivering the right level of care at the right time with the appropriate initial patient evaluations, as opposed to starting in counseling and escalating after sessions exhaust is a better, proactive approach to your benefits strategy..
ROI of high-quality health care
Milliman recently released a study on the prevalence of behavioral health diagnoses in the workplace, and how it relates the total healthcare spend and productivity. 
Because Cerebral has a proprietary EHR, we were able to use the Milliman study and data to calculate the ROI potential for companies who invest in high-quality mental healthcare as opposed to the traditional EAP solutions. 
As a reminder, high-quality mental health can be identified by two main points:
The solution should provide the same level of care to individuals with varying degrees of conditions, including medium to high-acuity diagnoses
The average time to care. Look for solutions that can connect anyone in your organization seeking care (no matter what level of acuity) with a qualified professional in an average time of a week or less.
Personalized ROI calculator
To receive a free, personalized ROI calculator for investing in high-quality mental healthcare, click Get Started and we will be in touch.