Talk
to
a
licensed
prescribing
provider
to
see
if
escitalopram
(Lexapro)
is
right
for
you
Understanding the different treatments available for depression and anxiety can be overwhelming. With Cerebral, you can speak to a licensed prescribing provider online to see whether escitalopram (Lexapro) is right for you. If your prescribing provider decides that escitalopram is right for you, you can get your medication delivered straight to your door. If you're curious about getting antidepressants online, you can learn more today.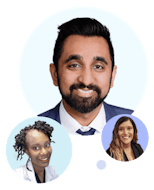 Hear
what
our
members
have
to
say
about
their
experience
David C - Irvine, CA
3 days ago
At first, I really was nervous to use an online service for my anxiety. However, the reliability of my care counselor and my prescribing doctor has been super helpful as I know exactly what to expect and when to expect it. Plus, medication delivery is really convenient for my busy schedule. Cerebral makes it so easy!!!
Jackson C - Cleveland, OH
4 days ago
WOW! I've been feeling so much better since my provider helped me through a new medication  for my anxiety. At first, I was skeptical about using the internet to get my meds. But my doctor really took the time to find the right meds for me, and she talks to my care counselor to make sure the overall program is working outside of the meds too.
Alana J - Los Angeles, CA
5 days ago
My prescribing doctor helped me think through if medication was right for me, and my care counselor responds really quickly when I have questions about side effects and more. I also love that Cerebral didn't try to push hardcore medications on me for my insomnia. My treatment plan is working well so far, so I recommend Cerebral.
Alex M - Los Angeles, CA
6 days ago
My therapist suggested I consider antidepressants months ago, but the cost to see a psychiatrist was too high. So I just didn't try antidepressants at all for awhile. Since my therapist referred me to Cerebral, I get to talk not only to my prescribing doctor but also to a care counselor who makes herself available to answer all of my questions.
April D - Abilene, TX
1 week ago
I used to take time off work to spend hundreds of dollars to see a psychiatrist, who barely remembered my name. Now, my doctor at Cerebral really cares about me and listens to me. I just really feel heard. AND, they send my meds directly to my door, and my care counselor is on it whenever I'm struggling despite the meds.
Diana L - Santa Cruz, CA
1 week ago
What an easy way to access really awesome care. Cerebral makes it easy - and my doctor and care counselor really care about me. When I first signed up, I thought it would be all about medication, but my Care Counselor Steven has showed me techniques like deep breathing exercises that really calm me down when I'm having a hard time.